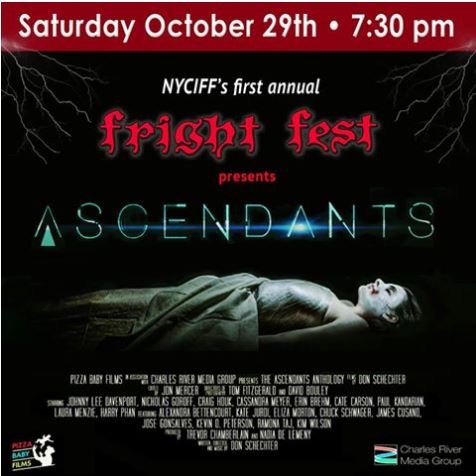 From Director Don Schechter's Twitter and Website:
Awards for The Ascendants Anthology! New York City International Film Festival's Fright Fest: Best Director–Don Schechter, Best Actor–Johnny Lee Davenport, Best Actress–Kate Jurdi, and Best TV Series Science Fiction!
The Ascendants is a multi-platform project that includes a series of short films (The Ascendants Anthology), a series pilot script, and a novelization of that script. Episodes of The Ascendants Anthology have screened at Hollyshorts (Finalist), The Independent Television and Film Festival, The Boston International Film Festival (Winner, Best Sci-Fi), Hot Springs International Film Festival, The Philip K. Dick Film Festival, The Tri-Cities Film Festival, the Boston Sci-Fi Film Festival (Honorable Mention), and Boston Comic Con.